Located in the heart of Gascony
---
Located in the heart of Gascony, with dramatic views of the Pyrenees, this is a rare opportunity to experience living in the unspoiled countryside of Southern France. While residing in a landmark chateau, you will be rewarded every day with magnificent panoramas, complete tranquility, and a quality of life which can only be associated with Old France.
Bassoues has been listed as one of the hundred most picturesque villages in France. Virtually unchanged for the last three centuries, Bassoues boasts a 14 th century keep (donjon), a timber framed market hall dating from the 1500s, a Romanesque basilica, a 13 th century Gothic church, and the Golden Legend of St. Fris. The village is only a few miles from Marciac, another medieval town, internationally known for its famous jazz festival, held annually in August.
An ancient community located on one of the pilgrimage routes to Santiago Compostela in Spain, the origins of Bassoues date back at least to the 9th century. Legend states: Fris, a nephew of Charles Martel, was killed in 732 during a battle defeating the retreating Saracens near Bassoues. His burial site was forgotten until centuries later his remains were found by grazing cows. He was made a saint by local acclamation after farmers noticed sick cattle became better by licking his bones. He was buried in a sarcophagus in a Basilica named in his honour on the outskirts of Bassoues overlooking the lake of Saint Fris.
---
---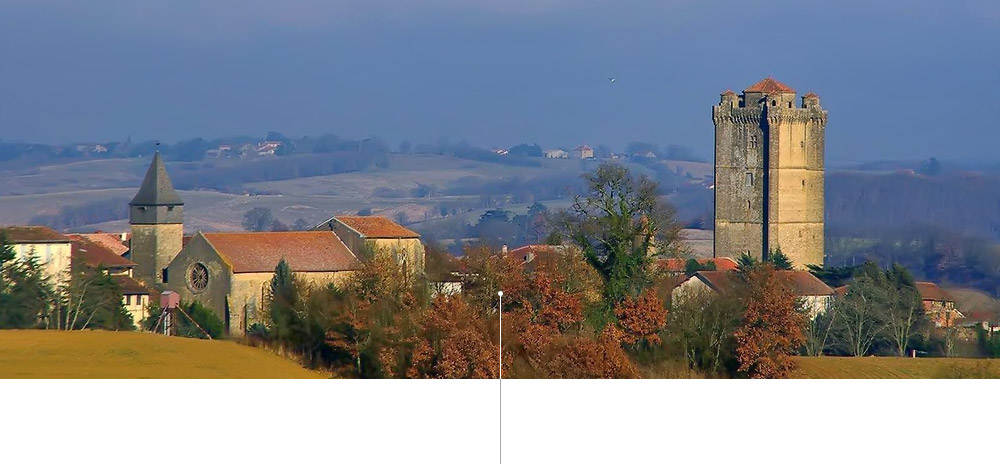 ---
Arnaud Aubert, Cardinal Archbishop of Auch and a nephew of Pope Innocent VI, built the chateau and the 43-meter high donjon between 1368 and 1371, during the Hundred Years War. A national museum since 1860, the donjon is one of the best-preserved towers in Southwestern France and features a series of vaulted rooms with beautiful Gothic carving. The northeast corner of the chateau, reconstructed in the 17 th century, features a small round corner tower overlooking the pristine countryside and the Basilica of St. Fris.
Miraculously, the chateau survived without alteration through the two centuries following the French Revolution, when the building was divided up into separate dwelling units. Beginning in the late 1990s, the corner unit has been meticulously restored by an award-winning Boston architect working hand-in-hand with European artists who decorated the original plaster walls with period inspired murals and decorations, as featured in Upscale Living Magazine, Summer 2010.
---